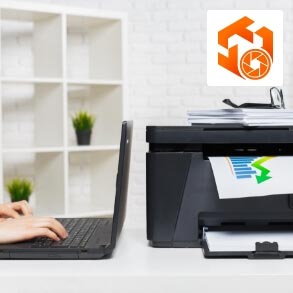 Tronitech CAPTURE is the first fully-functional, true enterprise distributed document capture system built for the Internet. Tronitech CAPTURE was designed from the very beginning to be distributed. In late 1999, while other document capture companies were focused on thick capture clients and proprietary scanning hardware, we had a vision of capturing documents from anywhere in the world with an easy to deploy web-based capture client. As browser technology matured and internet bandwidth increased, the thin client capture application has emerged as the main capture application. Tronitech CAPTURE's thin client has all of the production capture features previously only available in traditional, expensive, and difficult to deploy Windows "thick" clients.
Easy To Use, Powerful Performance
Thin Capture Client (Requires minimal training, easy to deploy and maintain, from anywhere!)
Production scanning of virtually any volume of documents, distributed or centralized
Capture documents from a variety of sources (scanned paper, faxes, Emails, multi-function devices, electronically created documents and more…)
Automated document cleanup (image enhancement – de-skew, de-speckle, border removal and blank page deletion)
Visual Capture Process Designer (No coding required! You define your business rules and automate decisions)
Thumbnail Document Classification Mode
Bar Code Recognition
Machine Printed Character Recognition (OCR)
Hand Printed Character Recognition (ICR)
Forms Recognition
Database Lookup and Query Tools
Standard and Searchable .PDF Creation
Field Input Masks and Validation
Group Administration/Active Directory User Integration
Conveniently Capturing Any Document, Anywhere, Anytime ™
The Tronitech CAPTURE Client packs plenty of production capture features into a thin browser-based application that is easily deployed to any desktop in the world with an internet connection and a browser. With document assembly software documents can be scanned with any TWAIN scanner or imported from the desktop (examples would include Emails, Word and Excel documents, etc.). Getting documents from their source into a repository is a snap. Documents are securely transmitted from the Tronitech CAPTURE client to the Tronitech CAPTURE Server over a secure internet connection. Tronitech CAPTURE truly is Web-Based Capture, Anytime, Anyplace!
Capture documents easily from anywhere in the world where the paperwork originates
Capture and index large volumes of documents securely
Increase the speed of transaction-oriented business processes
Ensure corporate compliance by managing and monitoring incoming documents
Eliminate the cost and handling risks associated with shipping paper documents
Automate complex capture and indexing tasks eliminating manual data entry expenses and errors
Import and process Email and Faxes
Easily integrate with third-party and legacy systems
Deploy either as Software as a Service ("SaaS") hosted in the convenience of our secure data center or as a traditional "on-premise" purchase
Realize low total cost of ownership and significant cost savings