When you offer imaging services to clients, you need the best imaging products and services.
You need powerful solutions that offer the latest technology in document capture, document indexing, document workflow, imaging workflow solutions, and a secure cloud-based document storage solution. If you are new to imaging, you also need imaging support, a reliable partner who can work together with you to service clients, and an affordable and efficient way to learn about imaging.
Tronitech is proud to offer our docTEAM Imaging Suite of solutions. docTEAM combines the power of the latest imaging technology with an easy to use approach that supports you every step of the way for driving digital transformation.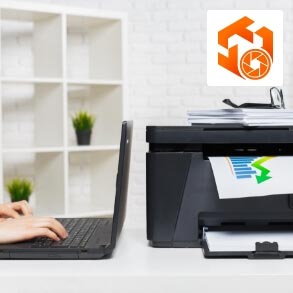 Tronitech Capture
Document capture is the first step in providing imaging services to clients. Tronitech Capture makes imaging easy and profitable. Whether you are an imaging reseller supporting client operations or providing document capture directly, Tronitech Capture is the perfect fit.
Capture is a full-featured, browser-based system built for the Internet. Documents can be scanned from any Internet-connected computer in the world and distributed throughout the enterprise. Capture is built on a "thin client" model for speedy deployment without sacrificing essential functions often found in more expensive and difficult-to-implement "thick" clients. Capture has the powerful feature set that clients need without all the baggage of a more complex system.
VAULTview
Image retrieval, (the key service clients need), is made possible by document indexing and secure access. Once scanning and indexing operations are complete, images require storage in a secure environment that meets or exceeds compliance requirements in HIPAA, Gramm Leach Bliley, Data Protection Directive, and various privacy laws. docTEAM VAULTview is a secure image repository for images created by you and by end-users. Powerful data protection together with ease of use and secure access by clients make VAULTview the cornerstone of the docTEAM Imaging Suite.
Like most elements of the docTEAM Imaging Suite, VAULTview may be used separately. If they are moving digital information assets from another provider, some clients may only need a secure digital storage repository. Tronitech's flexible approach is built to help you serve these clients. Your clients will love our competitive storage fees. You will love the recurring revenue stream for resellers who become a part of the Tronitech reseller family. Working together we can create imaging magic.
Data Entry Services
One of the most critical elements in imaging is the capability to identify captured information for retrieval. docTEAM Index is a powerful support tool for document indexing and metadata capture. You and your clients will appreciate how easy it is to use without sacrificing performance. For document indexing you'll be glad you're using docTEAM Index.
When clients purchase imaging solutions, what they are buying is the capability to retrieve and share digitized documents. Document indexing, (the process of capturing information about the document to facilitate retrieval), is critical to the overall performance of an imaging solution. Clients using docTEAM Index can take advantage of browser-based data entry, barcode capture, optical character reading to facilitate full-text searching, and more. docTEAM Index offers easy to use – easy to implement features ensure client satisfaction levels.
Workflow
Clients need powerful capabilities to integrate documents with data and employee activities. docTEAM Workflow combines the power of Tronitech technology with the same ease of use and affordability you expect from the docTEAM Imaging Suite. Document workflow automation is an essential element of imaging services. Tronitech works together with you to solve client problems and generate revenue from workflow automation.
A major driver of imaging is workflow management. Internal functions like accounts payable, departmental invoice routing, and mail room management are well-suited to the solutions imaging provides. Business Process Management functions like digital forms management are easier to implement using docTEAM Workflow. Clients expect imaging services companies to provide document workflow; docTEAM workflow by Tronitech is your answer to exceed client expectations.
Support
Like an imaging franchise organization, Tronitech understands that companies getting started in imaging need a lot of help. docTEAM Support is the answer you have been looking for. Whether you start slow or aggressively grow your imaging services, docTEAM Support works together with you as a team. We step in to provide direct services wherever they are needed. You can learn about imaging as you provide imaging services thanks to docTEAM Support
docTEAM Support doesn't stop with our imaging support to you. We know you have clients that are interested in learning more about the docTEAM Imaging Suite. They will look to you for support of their imaging operations. Maintaining a full-featured help desk to support your end-user clients is a significant investment. Tronitech's docTEAM Support works together with you to find a solution. We extend to your clients the same amazing imaging support we provide to our reseller family. Powerful and easy support solutions are offered in a variety of pricing options. As you learn more, you are able to take a more active role in first-line support of end-user clients. Until then, you can rely on Tronitech's docTEAM Support to work together with you to provide client assistance.